Messgeräte
und
Hilfsmittel
für die
Hochfrequenztechnik
(Introduction pages)
PTE
Physikalisch-techn. Entwicklungslabor
Dr. Rohde & Dr. Schwarz
München 9, Tassiloplatz 7
PTE was the predecessor of what is now well know Rohde & Schwarz (R&S) in Munic
PTE was established by Dr. Rohde and Dr. Schwarz in 1933.
During the last period of World War Two, PTE information sometimes appeared as R & S. However, to my knowledge, its official Company designation originates from shortly after Germany surrendered, in May 1945.
Significant for the Rohde and Schwarz Company may have been, that Munic was within the American Zone (influence). In a post war British report, they were very disappointed that they could not get what they utterly wanted from Rohde and Schwarz.
(German language, pdf)
Inhaltsvereichnis
Subjects:
Spannung = Voltage = BN 1xx
Strom = Current = BN 2xx (not available)
Widerstand = Resistor = BN 3
Frequenz = Frequency = BN 4
Kapazität = Capacitor = BN 5
Selbstinduktion = Inductance = BN 6
Zeit = Time = BN 7
Temperatur = temperature = BN 8 (not available)
Hilfsmittel = Auxiliaries = BN 9
BN 1xx series,
Nomenclature (Type numbers)
UDT, Taschen-Röhrenvoltmeter (July 1937)
UDC, Kompensations-Röhrenvoltmeter (December 1937)
UDHT, Tragbares Hochspannungsröhrenvoltmeter (December 1937)
UTKT, Tast-Röhrenvoltmeter (July 1937)
BN 3xx series,
Nomenclature (Type numbers)
RDN, RDH, Widerstandsdekaden (October 1937)
RVQ, Gütefaktormeßgerät (February 1938)
ZHU, Kabelmeßbrücke (May 1938)
BN 4xx series
Nomenclature (Type numbers)
STK, Tongenerator (February 1938)
WAN, Resonanz-Frequenzmesser (December 1937)
WAR, Resonanz-Frequenzmesser (December 1937)
WAD, Resonanz-Frequenzmesser für Meterwellen (February 1938)
WIP, Allwellen-Frequenzmesser (November 1937)
WIK, Frequenzmesser für meterwellen (November 1937)
BN 5xx series
Nomenclature (Type numbers)
KRH, Kapazitätsmeßgerät (October 1937)
KRHT, Kapazitätsmeßgerät (October 1937)
KMM, Verlustarmer Plattenkondensator mit Mikrometereinstellung (December 1937)
KSDV, Veränderbarer Normalkondensator (December 1937)
KDH, KDN, Kapazitätsdekaden (January 1938)
BN 6xx series
Nomenclature (Type numbers)
LRH, Selbstinduktionsmeßgerät (September 1937)
LRHT, Selbstinduktionsmeßgerät (October 1937)
LDH, Selbstinduktionsdekaden (January 1938)
BN 7xx series
Nomenclature (Type numbers)
CFS, Synchronuhr (July 1938)
BN 9xx series
Nomenclature (Type numbers)
BN90141; BN9014; BN90142, Hochfrequenz-Klemme (December 1937)
BN9021; BN9022; BN9023, Stecker und Hülse für HF-Kabel (May 1938)
BN9101, Kapazitätsarme Durchführung (December 1937)
KFD, Kreisplattendrehkondensator (December 1937)
KUD, Symmetrischer UKW-Drehkondensator (January 1938)
NWU, Netzanschlußgerät mit Gleichstromheizung (December 1937)
NWH, Regelbarer Hochspannungs-Gleichrichter (June 1938)
TR, Regeltransformator (December 1937)
QN, Normalquarz (February 1938)
Preisliste (Price list of about 1938)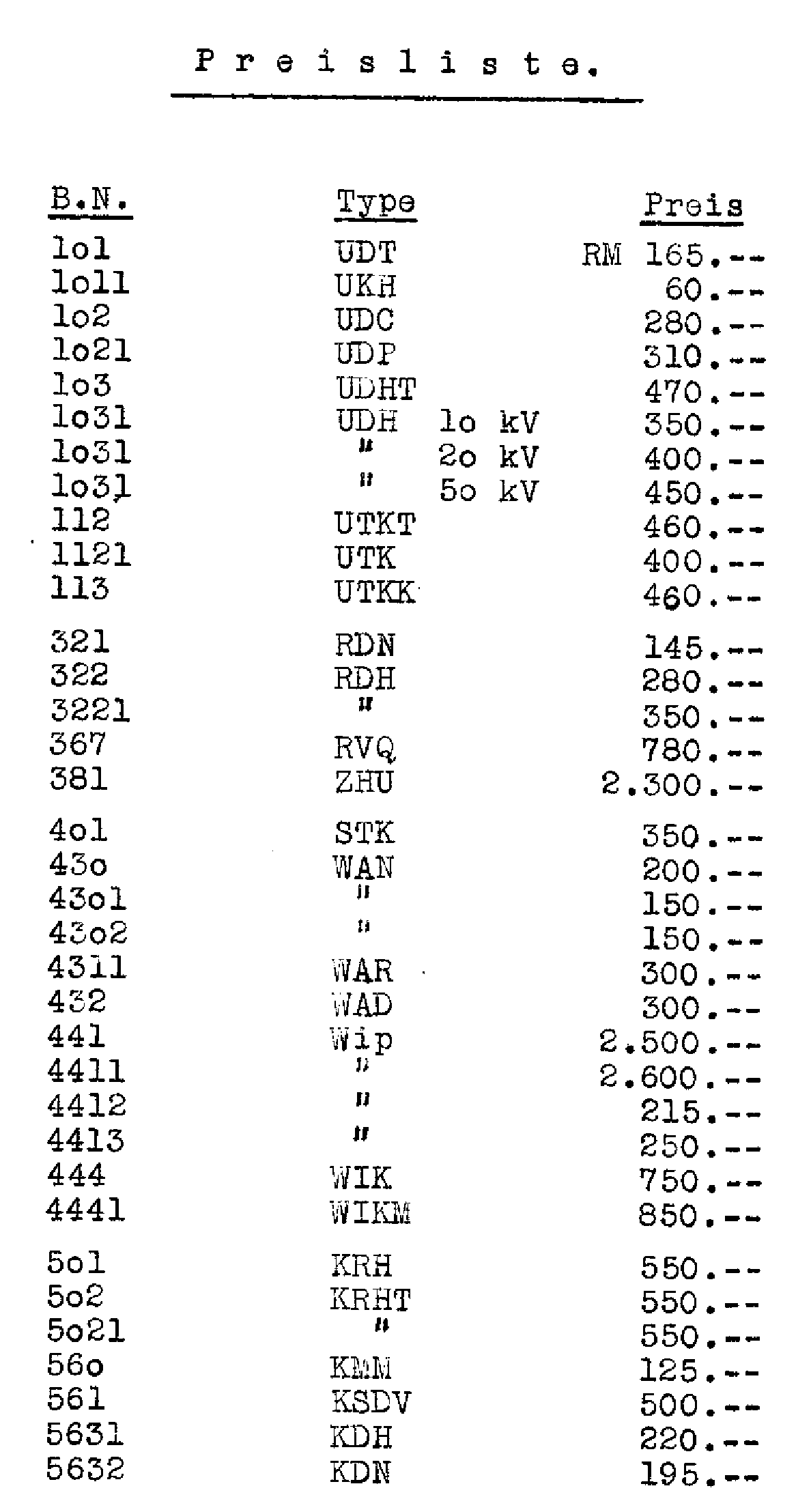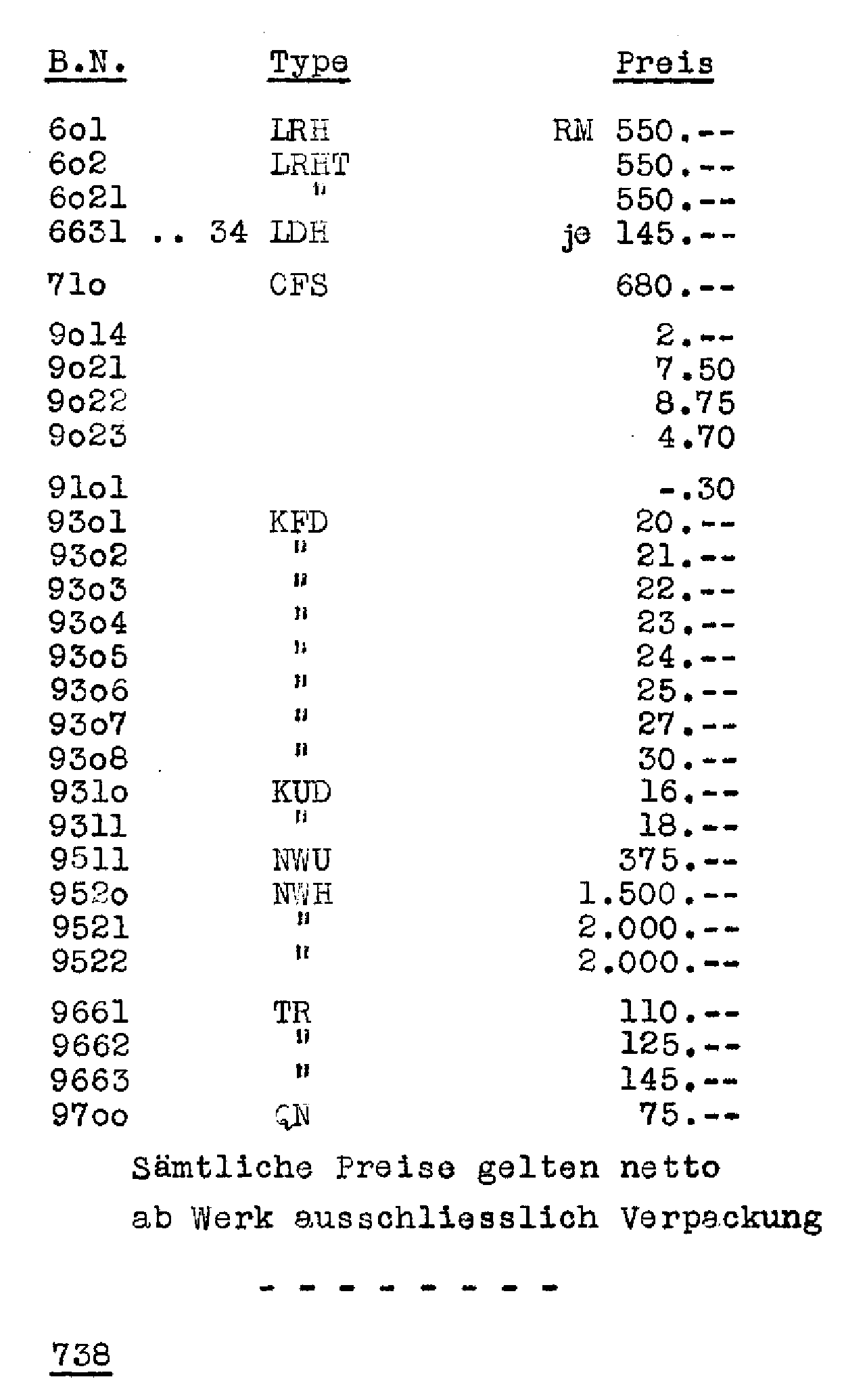 Back to: Handbooks, papers, and product information