Considerations about navigating (browsing) on our website
State of affairs of 4 December 2006
This website has been started (set-up) about mid November 2004. We could, however, by no means foresee that it would grow, in just over one and a half year, to more than 212 MB, incorporating: 911 folders and 3107 hyperlinks (the figure below is of mid June 2006)!

To give the visitors an inside view of its (huge) hyperlink structure, please click on:
Navigation hyperlink tree (pdf reconstruction, by means of 16 screen dumps)
Some visitors regard, searching (navigating) on our website being a bit complicated, but judging the enormous complexity of its structure, one has to bear in mind the following philosophy:
Regularly, the introduction page provides access to sub-pages, which cover a subject group. From a sub-page one can approach a specific topic. (see below)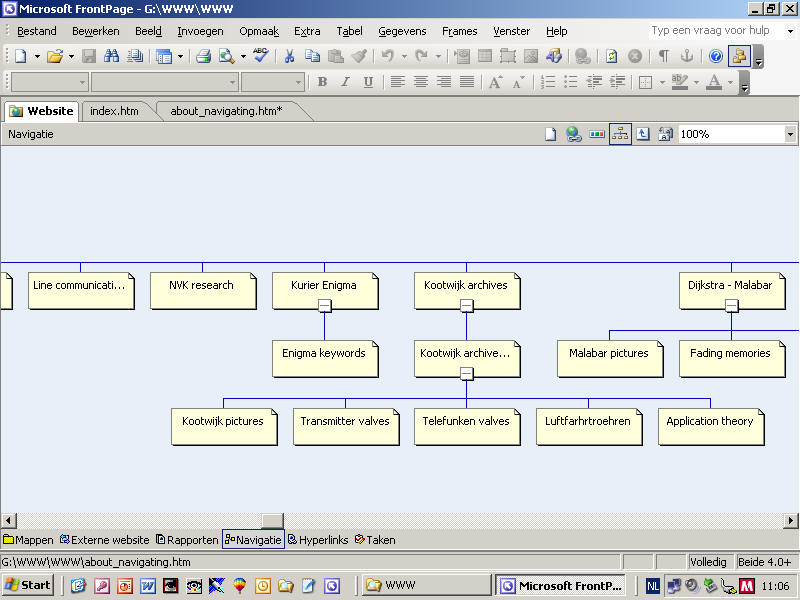 The great variety (quantity) of matters dealt with, does not permit diversification directly at our introduction (index) page, but this has to be cleared first by determining between main topics. Type numbers and keywords wizard, is supposed to be a very versatile utensil to find an appropriate subject page. Google is, however, providing direct access to our specific subject pages as well.
Webmaster
AOB
Back to: About us